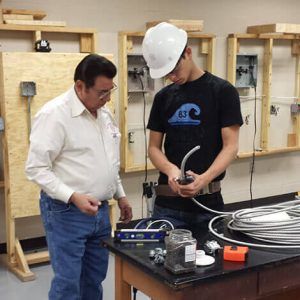 The DOL approved 4 year Apprenticeship Training Programs allow students to receive paid, on-the-job training while simultaneously completing their coursework.
Corporate sponsors work with Associated of Builders and Contractors (Texas Coastal Bend chapter) to provide jobs for Apprenticeship Program students.
Apprenticeship Program participants will be registered with the U. S. Department of Labor Bureau of Apprenticeship and Training (BAT). Upon completion of the required coursework and on-the-job learning hours, students receive a certificate of completion from BAT and NCCER.
Electrical Apprenticeship Program